I've always been a huge fan of the alien films. Ive been collecting random things from Alien and Aliens for about ten years- and somehow ive aquired quite a collection! Back in April of 1997 I'd just bought a scanner and decided to start a web site showing off the coolest toys, gadgets, and one-of-a-kinds from the Alien films. If you're new here, this is "version 2" of the site, and is remodeled after about half of a year of wait. I don't have as much free time to devote to updating the site any longer, however it has new capabilities that will allow updates to be about 50x easier..
The major inspiration for this site is Gus Lopez's Star Wars Collectors Archive. I too collect Star Wars "stuff", but realize there's no need or way to top his site. At the time, there was no other site on the web dealing strictly with Alien collectables- making this an original, unique experience. I guess there's only one other site "similar" to this- the On-Line Aliens Collection- but I think Willie Goldman and I had the idea at the same time..
As always, E-mail me with any suggestions, comments, or flames about anything- I'll just warn you that I can be a slow-ass responding to email! Enjoy!
This site is hosted by Pair Networks. I chose them partially becuase they seem to power other large sites, such as Tom's Hardware Guide without a hitch. Also due to the extensive amount of scripting and such that they support.

I used to host this with pair networks, and they were great. However, since my DSL line loves me, I now host it at in my basement.

We are powered by several MySQL databases, with PHP as an easy yet powerful way to query the database and generate pages. This is the first time ive used SQL or PHP, so there are bound to be some bugs somewhere in the system. If you see one, please email me. 95% of the code was written by me, the rest is a combo of things found on the web, and help from irc people in the #php

From the standpoint of a beginner to these languages (not to HTML) I would recommend them to anyone who needs a database driven web page. At this point, I think all pages should be! The benefits are overwhealming. The old site suffered because it took about an hour to add ONE item, because I had to modify about 5 html files, and verify that everything was current. Suck! Anyway, shoot me an email if you have any techie questions reguarding this site..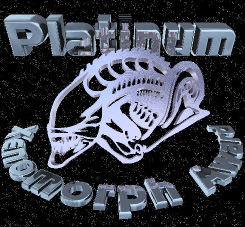 Proud recipient of the Platinum Xenomorph Award!


Listed on the Alien Top 25 sites!
The contents of this web site may not be reproduced in whole or in
part without consent of the author. © Chris Wopat 1997-2002.